It's Cruise Day!

We awoke from our slumber and got ready. Quick showers then off to explore Ybor City.

The coffee at the hotel was just horrible. I don't know how hotels can sleep at night serving sub-par coffee. The continental breakfast wasn't much better, but it was enough to tide us until we could find something else.

The girls wanted to take the Tampa Trolley around and explore a bit, so we asked at the front desk, and there was a stop not to far from the hotel. Masks were required on the trolley (we thought Florida didn't have the mask requirements) even though we were the only ones on the trolley and were fully vaccinated. It reminded me of the Trolleys in Pigeon Forge and Gatlinburg, except for the Tampa Trolley is actually on rails and uses power lines (the TN Trolleys are really just buses) !




Just a short trip and we arrived at the Centro. Ybor City is known for boutiques and vintage shops on 7th Avenue, which also hosts Cuban and Latin American eateries. Not much was open in the morning, but it looked like a cool spot to enjoy in the evening.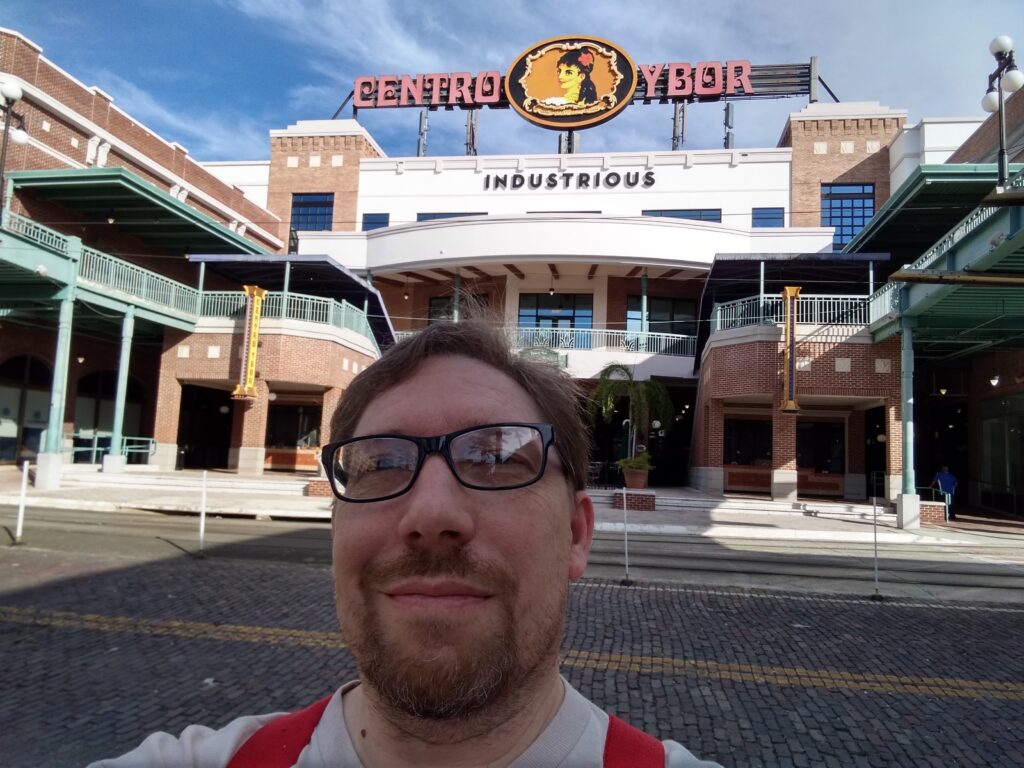 Christy had found a coffee shop online, The Blind Tiger Cafe , so we walked around until we found it.
Great Coffee! We sat inside and enjoyed our coffee for a bit. Although we had hoped they would have had breakfast sandwiches, they only offered pastries so we headed out to find some breakfast.
A little more walking and we found a Gaspar's Grotto, a Pirate bar.. and it was open for breakfast!
It was a very well themed restaurant. We decided to sit outside and enjoy the patio. We ordered our breakfast.. and then the place got really busy. We sipped our coffee and awaited our breakfast. I think our waitress was overwhelmed.. or she was mad that we brought outside drinks.. or maybe both.

We had ordered the breakfast sandwich with BACON.. but 30+ minutes later we got one with the mojo pork instead.. the pork was just too heavy for breakfast.. but at that point we were just hungry. I could only eat about half of it.. it was quite big. I think I would have liked it had it been the bacon.

The waitress never came back to our table. I went out to the street, as it was getting too crowded and busy as a large group of children came and sat down. My wife went inside to pay… but had to wait for the waitress to bring her the check.
I will give the place the benefit of the doubt that they didn't expect the large crowd and were short handed. I really liked the pirate theme! I would like to try them for lunch or dinner.. or maybe earlier for breakfast. I found and followed a chicken around until Christy had paid the bill.

We walked around a bit more, since we had some time before embarkation. Several cool looking shops, but they were closed.. which was surprising for a Saturday morning. I totally would have gotten a hat at Cocoa Mo Joe's Mens Emporium, had it been open.

Google Maps shows this place as "La France" .. it's right next to Revolve Clothing, which was a cool retro shop that the girls picked up some clothing at.

Revolve had a lot of unique items, clothing and old movies on VHS/DVD. I think they wanted a bit too much for these items but they were cool non-the-less. The clerks at the store were very helpful and perky.

We had already checked out of the hotel, but they said we could stay parked there for the rest of morning. We just walked back as it wasn't that far. We could not only see the Serenade from the hotel, but we could see it as we were walking down 7th street. We packed the few clothing items Christy and Jessie got, hopped in the car, and drove down to Port Tampa.


We had paid online for Valet parking, and I'm glad we did. Parking at the port is $15 a day and it was an extra $20 for valet parking for $95 total. Worth it for sure. No need to park and walk. We drove right up to the terminal, showed them our parking pass that I had printed out. The porter got our bags out, we got our carry-ons, handed the valet the keys, and got in line awaiting them to let us in the terminal for security check and boarding.
We didn't have passports, as this is a "closed-loop" cruise. We had driver licences, birth certificates, marriage licences and negative covid tests. Security, unfortunately, confiscated Christy's cotton candy unicorn.. she didn't want it to get squished, but we really just should have put it in the checked luggage.